AQ Matic Valve and Controls Company, Inc.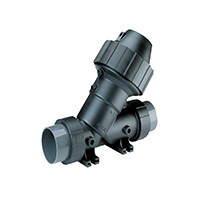 AquaMatic Valve K53
1-inch to 3-inch "Y"pattern diaphragm valves
Glass-filled thermoplastic body and cap intended for corrosive applications
This product is manufactured in the United States of foreign and domestic parts.
Features & Benefits
Two dynamic o-rings on the shaft, with a vent in between the o-rings to prevent damage to the diaphragm
Female socket weld connectors for easy installation and the ability to remove the valve without disrupting the service piping
Cap held by a retaining ring, eliminates screws and nuts
No external metal parts to corrode in aggressive atmosphere
Valve bodies provided with molded pads can be used to support piping manifold
Reinforced diaphragms are pre-formed and stress relieved to maximize responsiveness and product life
Ideal for corrosive applications including deionized water, acids, caustic and harsh chemicals that would rapidly corrode metal valves
Can be actuated with either air or water as control fluid
Accessories & Options
Fully adjustable limit stop from full-open to full-closed, with a position indicator to show valve position
Position indicator
Spring assist (open or closed)
Seal and diaphragm materials available
Normally open or closed
Externally normally closed
Resources
Instructions and Manuals
Drawings
Pictures
Warranty
Phone: 262-326-0100 | Address: 16605 West Victor Rd New Berlin , WI
© Copyright AQ Matic All rights reserved. 
A Senney Enterprises Company: Met-Chem Filter Press, STD Specialty Filters, Lamports Filter Media, Murray Fabrics, Poly Products, Auto Technology, Samsco, Lakeside Water Treatment, Micropure Filtration, Jaxon Filtration, American Ecotech, Custom Instrumentation Services Corp, AQ Matic, Ambilabs, AQ Manufacturing, Smart Sonic, 440-R® SMT Detergent Stencil Cleaner, Rhomar Water Mechanical Systems, Inc.